When I was still on a 'raw food only' mission I read about retox somewhere.
This concept seemed very strange to me.
Who would want to retox after they went through the withdrawal, the inconvenience and then the pleasure of
eating healthy?
Fast forward a couple of months and here I am, a retox expert!
I am back to eating chocolate and cookies, drinking red wine and lying around on my couch.
Very enjoyable as long as it is balanced by other food and other activities :-).
I am pretty much an 'all or nothing' kind of person (nice excuse) and right now it is close to nothing health-wise.
But this is about to change, and I would love some company on my mission!
Lets eat healthy, lets get fit and subtle, lets find clarity about the things that are really important to us, lets sort out our cupboards, wash our curtains and clear out the storerooms…
Please join me for a simple three week program to get fit, healthy, happy and centered.
At first I planned this as a six week program, but that just seemed too overwhelming. Apparently it takes 21 days for new habits to form, so three weeks should do the trick.
Here is the button you can use if you would like to take part: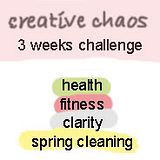 The plan:

Please adept so it works for the time you have available and for your preferences (I do NOT mean watching TV while
eating junk food :-) ):
1 hour of sports on 3 days a week (I will mainly do Power Yoga)
30 minutes of sports on 3 other days (f.ex. jumping on the mini trampoline)
Only fruit until lunchtime
A big salad or veggies with and sometimes instead of lunch and dinner
Lots of water between meals
Healthy sweets as the only sweet stuff
2 hours/week to think about your life. Where do you want to go, what is important to you, what are your goals and values, what needs sorting out or resolving
writing a list of unfinished projects and doing them or giving up on them
Clear out, clean and organize every room of the house, including the outside rooms, the garden, the car, the computer…

I will regularly post updates, a list of cleaning and sorting tasks, resources and inspiration, and healthy receipes.

Hopefully this will keep me nicely on track and motivated...


The program will start on Monday, 2nd of April and run until the 22rd of April.

Please join me on finding a healthier, happier you that is able to locate the missing cellar keys, is calm and serene
under fire, knows that she is beautiful and loved, and looks and feels 10 years younger :-).

Let me know in the comments if you are in.


To love, beauty and clarity!

Tweet